Annie Tong Zhou Lafrance's photo weavings can be seen in-person at Whippersnapper Gallery in Toronto from September 21st to October 21st, 2021.
Statement from the artist: The original footage was taken in Saskatchewan in 2020 during a road trip from Montreal to British Columbia. As I have never crossed Canada before, the idea of traveling the entire country was highly appealing to me, and so does the idea of traveling back to my native land. From China, To Canada represent an imaginary/delusional dream I hold onto and wish to preserve even when the expectations are not met after moving to another location. This piece raises the lack of knowledge I have about both my native and host country. With humbleness, it also raises the desire to take the time to deconstruct a fictional/idealized land in order to thoroughly understand it once reconstructed.
Artist:
Annie Tong Zhou Lafrance
BlackGrange performance documentation, March 3, 2018. Photograph by Anise Truman for WalkingLab
For this year's Chinatown Biennial, we worked with artist Camille Turner and her assistant Alvin Luong to produce two textual translations of BlackGrange, one in Vietnamese translated by Tak Pham, and one in simplified Chinese by Yijia Zhang.
"From the perspective of a fictional time traveler, BlackGrange is a self-guided walking tour that rethinks and re-imagines the present by illuminating histories of the African Diaspora in Toronto's Grange neighbourhood.To begin your walking experience, have this project page ready on a mobile device, and begin at University College (27 King's College Circle). To start, simply click on each location's image to begin the audio. Follow the map's instructions to navigate the BlackGrange."
Composer/Sound Engineer – Ravi Naimpally
Singer – Quisha Wint
Voices – Camille Turner and Alvin Luong
Photographer – Jalani Morgan
BlackGrange is a project by artist Camille Turner-- to learn more about her, check out our
artist bios
, or visit her website
here.
With luck, you will be out walking one rainy evening and find yourself accompanied by footsteps visiting the site of a long forgotten business, the walls marked with ticket stubs or vegetable scraps, dancing dragons and neon signs.



There are many Chinatowns in Toronto; one is buried under Nathan Phillips Square, another is threatened by new development, yet another is accessible only by car. Still, inhabitants of these enclaves have forged connections with the greater Canadian community despite repeated attempts at displacement.



We want to celebrate the exchange of commerce and culture (signage, tickets, food) and the people who walk these neighbourhoods (footsteps). Each installation consists of a solar powered light fixture that projects a past or present condition of the Chinatown community that goes unnoticed or forgotten, while an accompanying rainwork reveals the transient movement of visitors and locals through footsteps.


We have four sites of note: a historic hand laundry located on Spadina, the iconic Big Four Chinese Canadian restaurants on Elizabeth St., the performance of dragon dances in the road, and the women who sell their home-grown produce curbside. This collection of installations represent many stories of marginalization and resiliency, of survival and celebration through community from the First Settlement to Chinatown West.

"Approchez, Je Vous Raconterai Ce Que J'ai Oublié"
This work by An-Laurence can be seen stickered throughout Toronto, but it is a main feature of our Montreal Pavilion, which can be
viewed here.
2. Chan Sheung Kee Book Co. Pavilion
The Chan Sheung Kee Book Company is located at 457 Dundas St. West in Toronto. They are open Monday through Saturday from 10:30 am to 8:00 pm, and Sundays from 10:30 am to 7:00 pm.

The Chinatown Biennial's window installation can be viewed from street level outside business hours, but we encourage festival-goers to support the Chan Sheung Kee Book Company if they can.

This project by Anne Chen was born out of her father's request to catalog his Chinese art collection. Knowing little about Chinese art, she declined. As she mulled over the request, she wondered if her response came from insecurity researching art history or anxiety about detangling familial trauma. In the past year she has been making these hard things soft as a small collection of soft sculptures, reproductions of functional and decorative objects from her dad's collection.

Artist: Anne Chen


The Diaspora Pavilion is organized around investigating and interrogating common approaches to "diaspora arts" as commonly used by arts institutions, and the systems and narratives that these approaches create and sustain.


Panel: The Case Against "Diaspora" Arts
The Case Against "Diaspora" Arts is a panel featuring Shaista Latif, Vince Rozario, Arezu Salamzadeh, and Florence Yee-- four cultural workers with vastly different practices who have all dealt with the exploitation, weaponization, and misguided narratives of identity work in different capacities over the past few years.

More information on panel scheduling and registration is coming soon!









You are invited to participate in the "Build Your Own Chinatown" board game (digital edition)! Build your own Chinatown out of hundreds of 3D-scanned facades of Toronto's Chinatown(s) — selecting buildings, elements and facades that personally define Chinatown for you. Select carefully, each player can only choose a maximum of 10 buildings. Players must make the difficult choice of selecting the buildings they wish to keep and steward in their vision for the future of Chinatown.

Artist: Linda Zhang
Soba's Corner is an ongoing cooking show on Youtube's food channel universe, unpacking distinct Chinese-Canadian dishes. Disguised as a typical how-to cooking show, a second conversation and narrative is hidden in the subtitles and in the link to the "recipe" in the Youtube video's description box.
Artist:
Snack Witch
The Chinatown Biennial will be hosting a performance screening by Bodies Unbound, in conversation with Red Canary Song and Butterfly. Stay tuned for more details!
Bodies Unbound connects Europe's colonialist history of sexual regulation to the contemporary policing of the bodies of women of colour. Through poetry and performance created from archival material, we bring the language of colonialism – often written to be inaccessible to the people they controlled – into embodied reality, while also giving voice to those silenced by history, linguistic barriers, or fear of the state.


Laws regulating women's labour or sexuality have curtailed freedom and maintained patterns of racism, fetishism, and surveillance from Europe's colonial past to the present day. In the late 19th and early 20th century, many doctors assumed non-European women were prostitutes and thus vectors for venereal disease. Seen as threats to family integrity and society's morality, such women were the "easiest target for sexual regulation." In Germany, an 1871 law enabled police to arrest and subject to medical exam anyone suspected of selling sex. Cities required sex workers to register their place of residence, use an identification card, and undergo frequent medical exams. Such laws, ostensibly aimed at stopping disease, served to control the bodies of women of colour and the working class.


The medical and sexual marginalization of non-Europeans is amplified today in the fearful climate of the pandemic and manifests in the literal policing of bodies of women of colour. Until we reckon with this racist and sexist history, authorities will continue to enact harmful policies, such as raids on nail salons, brothels, and restaurants. These raids often harm women from East and Southeast Asia rather than addressing the economic precarity, itself a vestige of colonialism, that leads them to work in exploitative conditions.


Bodies Unbound draws from public archives (e.g. legislation, medical records, news articles) on prostitution in Europe and the colonies. Then, taking methods from docupoetry, we use these primary source materials to create lyrical works that illuminate and transcend trauma. Finally, we interpret the new texts through performance and present the final work as a poetry film.

Sculpture of the Dead, the docupoetry film resulting from the Bodies Unbound research project, was produced with support from Zarahlena (creative direction, videography), Molly Baber (editing), and Alexander Weber (sound design).

Watch the video playlist here:
"Then Is Now" is a Concept Album/Playlist of 16 short videos (1-3 minutes each) that reflect and reimagine the troubles and triumphs of Chinese youth growing up in and around Toronto's Chinatown from 1947(The end of the Exclusion Act) to 1967 (Canada's Centennial). Using oral histories from our "Aunties" (writer Arlene Chan, artist Bernice Hune, academic Shirley Hune and musician/community activist Janet Lumb), archived family photos, original writing, performance and new-to-us digital software, we have attempted to reclaim and recontextualize the actions of Chinese women and artists historically in Canada. Moving fluidly from archival material into cheeky contemporary interpretations of the same, each video is stand-alone, while the whole playlist/album illuminates a continuum of Chinese-Canadian artists, law changers, trouble makers, community builders and dreamers, with the aim of giving young people, particularly racialized youth, a way of understanding themselves through the personal stories of marginalized communities that are often left out of history.

Artists: Gu-Po Productions (Julia Hune-Brown and Keira Loughran)



Ociciwan x Evan Matchett-Wong
Ociciwan Contemporary Arts Centre is partnering with Chinatown Biennial and artists Evan Matchette-Wong and AJA Louden to create a mural on a vacant wall in kamâmak nihtâwikihcikan. Being mindful of public arts relationship to gentrification and gatekeeping for BIPOC communities, this mural follows a mentorship exchange between Evan as a mentee and lead artist, and AJA as a mentor. In Addition to the mural itself, we're creating a transparent, process-based toolkit that outlines the steps the artists took in creating this mural, and a resource share specific to this project so that other BIPOC artists curious about public art can access these steps with fewer barriers. Neighbors are welcome to drop-in and hangout with the artists as they work, so the process can remain open to the folks we share this neighborhood with. The mural is an invitation to gather in our temporary garden space, share stories and histories, and to care for one another.
kamâmak nihtâwikihcikan is an Indigenous art garden planted and cared for by Ociciwan in collaboration with Finding Flowers, and with help from our neighbors and communities in amiskwacîwâskahikan and Chinatown. The garden explores and expands on the late Mi'kmaq artist Mike MacDonald's work. Like his Butterfly and Medicine gardens, the community garden is meant as an invitation to hangout, to center reflection, and to interact with and care for plants and people in the neighborhood the gardens have found a home in. The garden we built is named kamâmak nihtâwikihcikan, and it's open 24/7 for the community. Programming in this space prioritizes centring BIPOC folks, and recognizes the roots and stories that our communities have in Chinatown and on Indigenous land, specific to amiskwacîwâskahikan.
家禧,你在家 / Kendrick, you're home
家禧,你在家 Kendrick, you're home from Shawn Tse on Vimeo.
Statement from the artist:
"Chinatown is the people, the people, the people" - Sid Tan, Whose Chinatown? Conference April 10, 2021.

Growing up, my family would travel annually to San Francisco to visit my 嫲嫲 / Ma Ma (paternal grandmother) and extended family. I treasured this time because hanging out with 嫲嫲 opened more ways for connecting to my Cantonese roots through food, speaking Seiyap (dialect), and cultural traditions. My dad loved taking photos and I have this adorable one of my mom, little bro, and I in front of Oakland's Chinatown Gate. This photo holds many family memories and demonstrates the power of the image and cultural sites to pass on intergenerational knowledge.

家禧,你在家 / Kendrick, you're home explores being a new father and how I will carry on the tradition of using photo and video to capture and share family memories. As our Chinatown decays, remembering it now feels urgent and I want 家禧 to be able to connect with this cultural space to understand me better, how it has nurtured my sense of belonging, and that he will have his own rights and responsibilities to shape his home and future.



"Approchez, Je Vous Raconterai Ce Que J'ai Oublié"
"Approchez, je vous raconterai ce que j'ai oublié" is a storytelling performance work
embodying the collective memory of Chinese adoptees born during China's national birth planning policy, the lost memory An-Laurence Higgins belongs to. Seven stories, inspired by real testimonies of Chinese families who lost a child to adoption and/or the policy, are told during the performance. For the Chinatown Biennial, stickers including QR codes linking to the audio stories have been put in inconspicuous places around Toronto's Chinatown West, Mississauga, and Montreal.




Filling Gaps: Reimagined Futures of my Native Tongue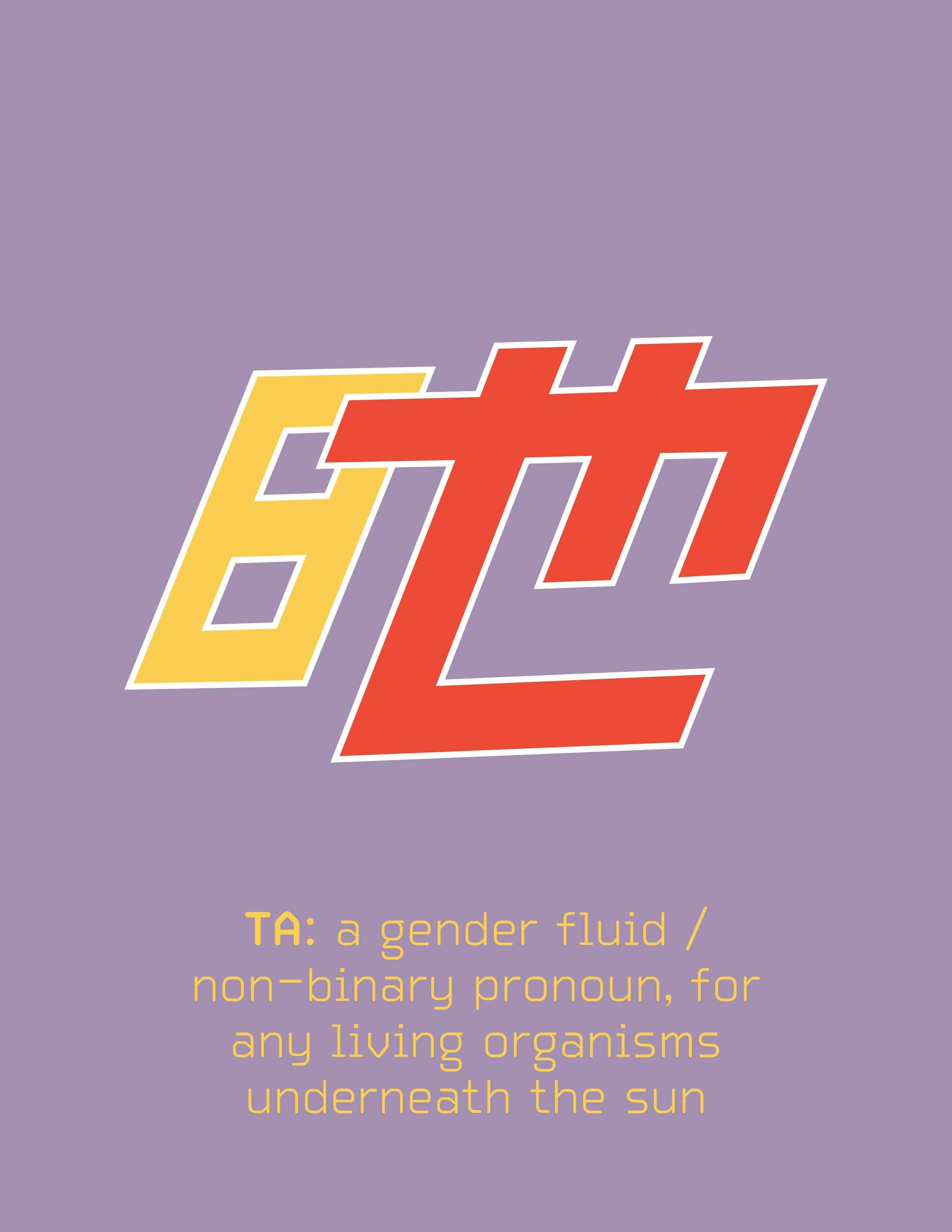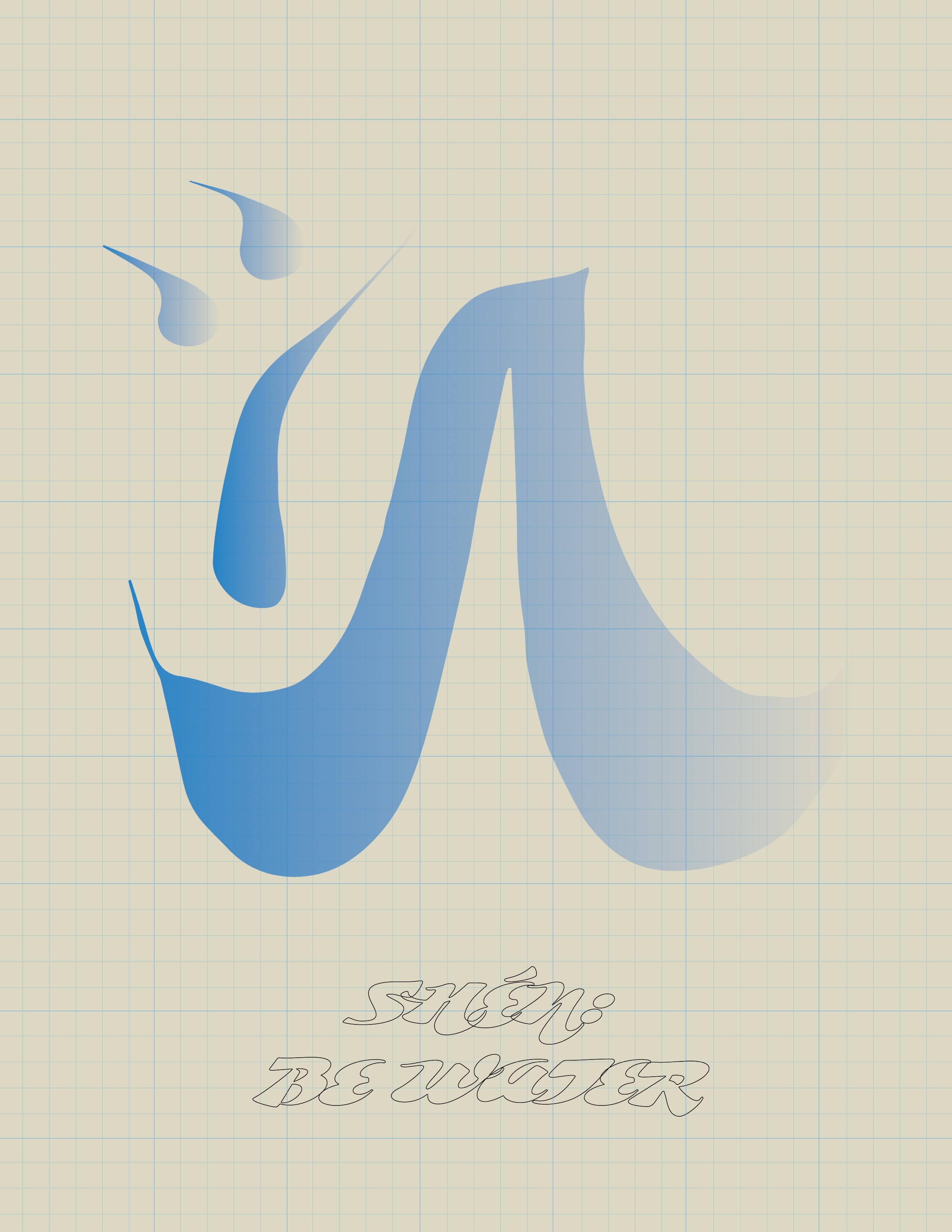 As a trans Chinese-Canadian artist / activist / designer, I find language a very powerful force in my daily life. I am exploring different ways in which typography can illustrate certain aspects of our lives, either through unlearning or relearning it. What are the origin stories of the words we use daily? How does language govern the way we perceive ourselves? Who has the right to reimagine our futures?

Through visual poetics and speculative typeface design, "Filling Gaps: Reimagined Futures of my Native Tongue" resists against colonial uses of language, and asserts suppressed diasporic geographies, queer bodies, migrant histories, and diverse identities. It opens up a space for intergenerational, cross-geographical, cross-lingual discourse, which can be both disruptive and liberating. The world is changing constantly and so has language. These new characters are a way of speculating on the politics and history behind language and queering the way we interact with our diasporic tongues.

This project consists of a collection of reimagined Chinese ideograms, which all have diverse visual forms, unique sounds, and tell a story of their creation. This speculative typeface includes the first 5 ideograms that I have created; which are not bound to one singular interpretation/sound, they are vessels that you can fill your personal voices/meanings into. I will be compiling suggestions/submissions into an ongoing open typeface collection, and invite you to join this conversation about language x queer diaspora with me.

7. Puddle Pavilion

A collection of water-based works by Arezu Salamzadeh and Florence Yee

-COMING SOON-


8. West of West Chinatown Pavilion


West of West Chinatown is none other than our pavilion based out of Mississauga, ON-- in other words, to the West of Toronto's Chinatown West.

Our West of West Chinatown Pavilion is located at Trithis Restaurant at 1177 Central Parkway West Unit 105 in Mississauga, ON. They are open 7 days a week from 11:00 am to 9:00 pm. While the work is visible from outside the restaurant, we recommending visiting during their open hours and enjoying some of the best homestyle Cantonese cuisine Mississauga has to offer.


This project by Anne Chen was born out of her father's request to catalog his Chinese art collection. Knowing little about Chinese art, she declined. As she mulled over the request, she wondered if her response came from insecurity researching art history or anxiety about detangling familial trauma. In the past year she has been making these hard things soft as a small collection of soft sculptures, reproductions of functional and decorative objects from her dad's collection.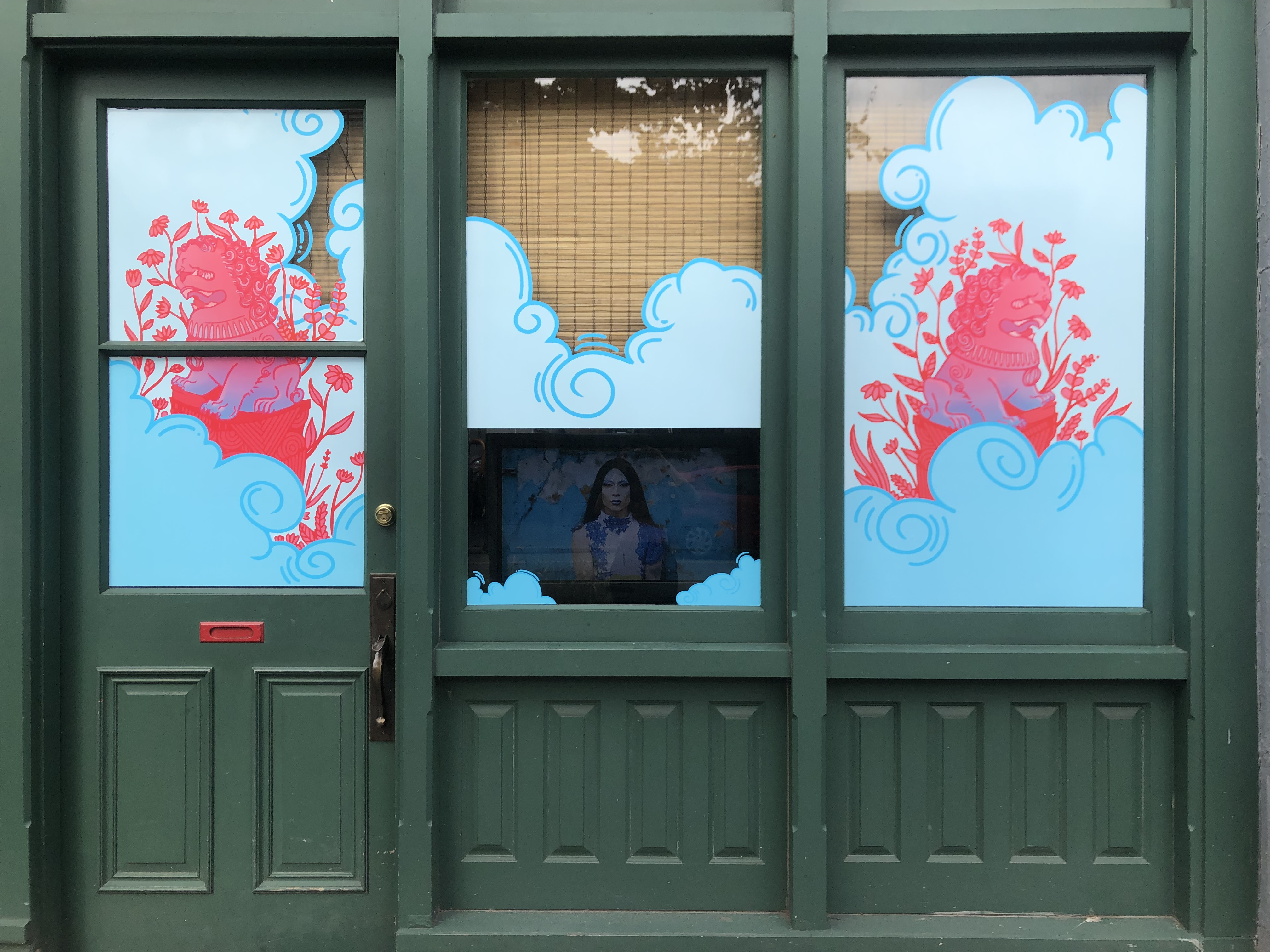 In this installation, drag artist Maiden China performs an ancestral veneration ceremony at Vancouver's Larwill Park, gathering site of the 1907 Anti-Oriental Chinatown (and Japantown) Riots as an exploration of temporality of anti-Asian racism in Canada. Giving offerings to our ancestors, making reference to the history of racism we are connected to; and recognizing the implications that these histories of Chinatown have on our own complicated identities today, as queer and racialized subjects. Abstracting from Saidiya Hartman's notion of 'temporal confusion', the ceremony collapses linear temporal boundaries by reconfiguring our diasporic queerness from a spiritual, embodied, and historical perspective. The floral borders on the windows reference the flower "bombing" from the anonymous artist who responded to the xenophobic grafitti in the neighbourhood with this generous symbol of resilience.


Lead Artists: Love Intersections (David Ng & Jen Sungshine)

Performance by Kendell Yan (Maiden China, Co-Director of Yellow Peril: Queer Destiny)

Illustrations by Shira Anisman and River Ironeagle

Project Coordinator: Marissa De Sandoli

Videography: Eric Sanderson and D'Arcy Hamilton




Anne Chen is a Pittsburgh based teaching artist who makes things that you can touch. She works with fabric, clay, and craft to amuse you and confuse you. Her playful creations reinterpret the objects of her Chinese-American upbringing, adopting strategies of copying, collecting, bootlegging, and ripping to reimagine the ordinary as absurd. In addition to her sculpture, she works as a teacher bringing the same notions of challenging authenticity and disobeying to an energetic, collaborative, and tactile pedagogy which encourages participants to examine their own identities, biases, and learning styles.

Lena Chen
is a Chinese American writer and artist creating performances and socially engaged art. Awarded "Best Emerging Talent" at B3 Biennial of the Moving Image (Frankfurt), her work has appeared at Transmediale (Berlin), Färgfabriken (Stockholm), Baltimore Museum of Art, Haus der Kulturen der Welt (Berlin), Centre for Contemporary Art (Derry~Londonderry), Museum of Contemporary Art (Jacksonville), among others.
She has been awarded grants and residencies from Sundance Institute, UC Berkeley's Center for Long-Term Cybersecurity, Millay Colony for the Arts, Office of Public Art, Burning Man Global Arts Fund, Frank-Ratchye STUDIO for Creative Inquiry, and Arthur Boskamp Foundation. She has spoken at Oxford, Yale, Stanford, and SXSW.
Based between Pittsburgh and Berlin, she earned a B.A. in sociology from Harvard University, and is a MFA candidate at Carnegie Mellon University's School of Art. She is founder of
Heal Her
, an expressive arts initiative that supports survivors of gender-based violence.
April Yee
is a writer, translator, and National Book Critics Circle Emerging Critics Fellow. A Harvard and Tin House alumna, she reported in more than a dozen countries before moving to the UK, where she serves on University of the Arts London's Refugee Journalism Project and tweets at @aprilyee.
Elise Hanrahan
is a historian and PhD student at the Freie Universität Berlin. Her current research focuses on medical and feminist discourses on sex work in the early 20th century.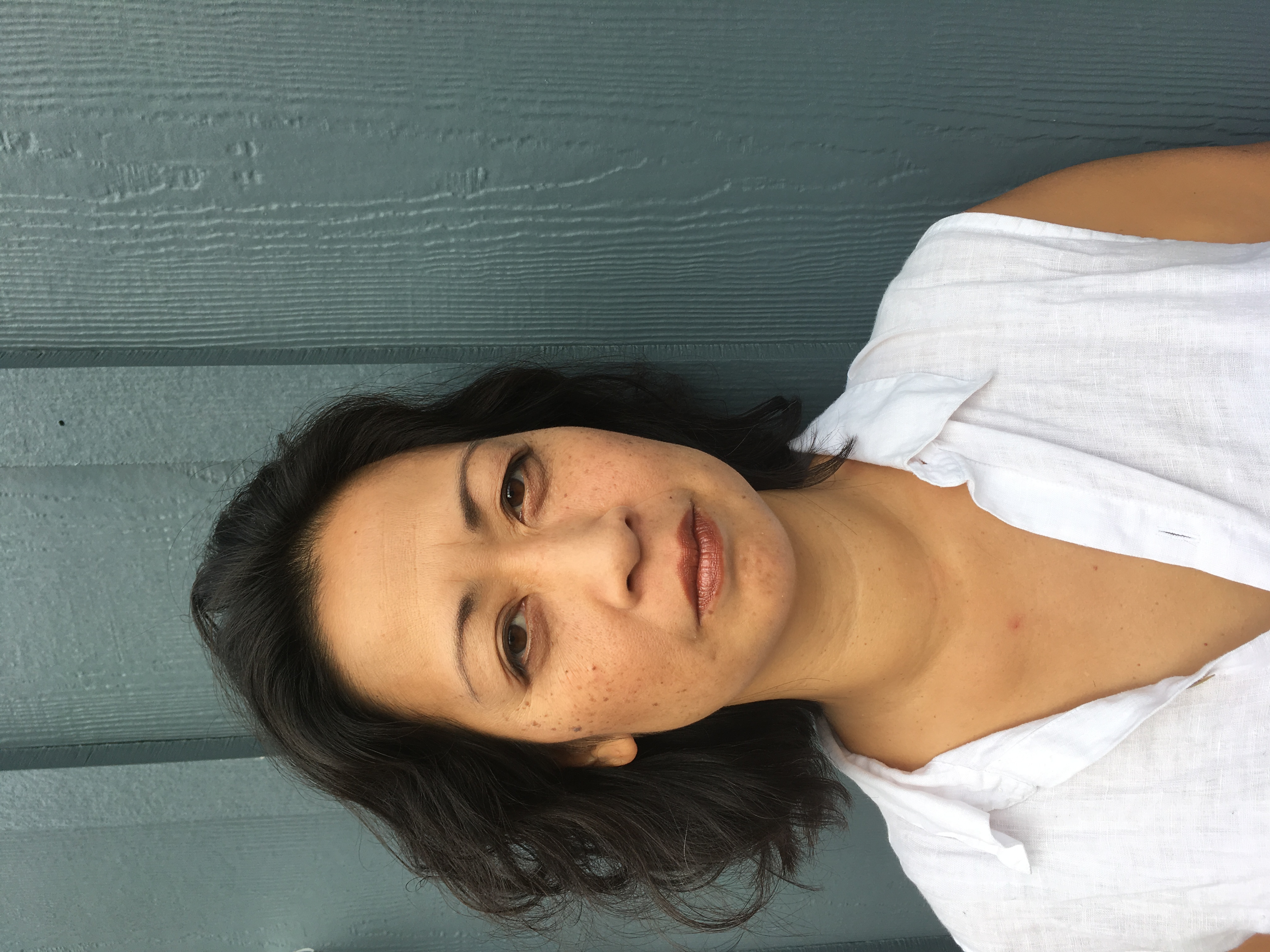 Gu Po Productions are artists Julia Hune-Brown and Keira Loughran, two third-generation Chinese Canadians who have come together in this exciting collaboration, born of unexpected overlapping family history and mutual admiration of each other's work. The collective range of their combined practice represents over 35 years in theatre and community engaged arts as writers, directors, performers, producers, dramaturges, teachers, facilitators and makers. Their bigger-than-life grandmothers were friends and co-conspirators in developing Toronto's first Chinatown culture, and this process of tracing that experience through their parents and aunts, to share with their own kids has been humbling, invigorating and healing over the last year.




An-Laurence Higgins is a Montreal-based artist and musician whose practice mixes

performance and multimedia and addresses topics such as relationships and transnational identity. An-Laurence is a Chinese-born, Canadian-adopted francophone raised in Quebec city.